Baby Bottle Drive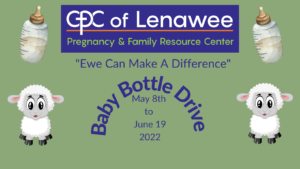 Hebrews 13:16
And don't forget to do good and to share with others, for with such sacrifices God is pleased.
Since 1984 CPC of Lenawee has been providing Christian Care to elevate God's plan for the sacredness of life, sexuality, and the family in our community, promoting life-affirming decisions and optimal health for men, women, and families in our community.
 At CPC of Lenawee, your generous contribution to our ministry will go towards our many free services such as pregnancy tests, pregnancy options counseling, limited ultrasounds, after abortion care, Earn While You Learn (EWYL) Parenting Program, Fatherhood Program, Life Skills classes, prenatal education, sexual health, and relationship education, supervised visitations, material assistance, and community referrals.
By giving to the CPC of Lenawee, you are giving to a local ministry that uses every opportunity as a divine appointment to share the Good News with individuals right here in our community.
We have multiple ways in which you can easily give to CPC of Lenawee Pregnancy & Family Resource Center.
1. Through an actual Baby Bottle … collect spare change to help change hearts and lives in families throughout the community.
2. Virtual Giving on our website https://friendsofcpclenawee.com/events/babybottledrive/ click on the little sheep!
3. Virtually give on our Facebook page, look for our giving link.
4. You can stop in at CPC we would love to see you.
5. Mail checks, payable to CPC of Lenawee at 308 North Broad St Adrian
Donate Here For Virtual Giving